How to print, save and share a map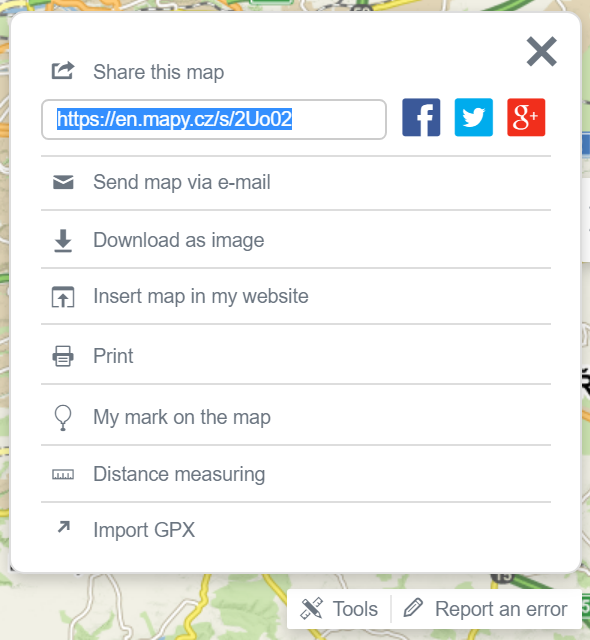 By clicking the
Tools
button, which is right next to the "Report an error" button in the bottom right corner of the map, a new window will open with tool options for sharing, saving, and printing the map.
»Share this map
As sharing a map is the most commonly used tool, a shortened URL (e.g. https://mapy.cz/s/map) appears immediately after the toolbox is expanded, referring to the map exactly as you see it now. You can simply copy the URL and send it to someone. The shortened URL is permanent and has no expiration date.

It is also possible to share your current screen on Facebook and Twitter.



»Send map via email
By clicking on Send map via e-mail a form for sending the map via e-mail will appear. In the form it is necessary to fill in the e-mail address of the sender and the recipient, the message is optional. In the e-mail, the map can be inserted in a form of URL or it can be attached as an image.
»Download as image
The option Download as image offers you to download an image of the entire current screen, i.e. the map and the sidebar currently on display. The downloaded image will be in PNG format.
» Add map to my website
You can use the tool Add map to your website to add a window with an interactive map from Mapy.cz to your website. In the opened form, select the map-window size and if you want to, you can also choose to display a minimap preview. Then simply paste the generated html tag into your website's source code.

For more detailed information on how to use the map API, practical examples, documentation and license conditions go to https://api.mapy.cz/.
» Print
When you click the Print button, a window with a print preview and a printer selection dialog opens. The entire page, that is currently displayed in the browser, will be automatically prepared for printing..

» My own POIs, Distance Measurement
At the bottom of the toolbox, you can find options My own POIs and Distance Measurement. Both tools are described in detail on separate help pages.

» Import of the recorded rout
Import GPX is a function that enables you to upload your own GPX file into the map. An entry in this format can be also uploaded to My Maps.



PLEASE NOTE! Only GPX files containing "track" entries are supported.
Files containing entries "route" and "waypoint" are not supported and cannot be imported.
These files can be temporarily displayed by dragging-and-dropping these files onto the map with the mouse

Tip: Print and download a map without the side panel

If you want to print or download a map as a picture, hide the side panel displayed on the right with the arrow button in the middle of the panel. The map is always printed or saved in a form as currently displayed on your monitor.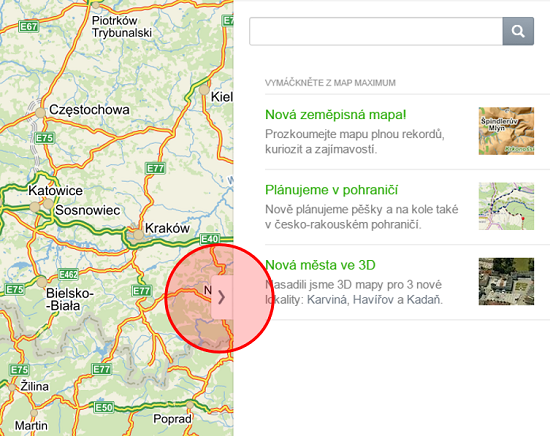 Contact Us