How to upload photos to Mapy.cz
Before you start uploading photos to Mapy.cz, please refer to Photographer's Guide. It explains the purpose of photos, gives examples of what they should and must not contain and states the conditions under which they can be uploaded.
Adding a photo to a specific location through the website
On the Mapy.cz website select / search / click on the location to which you want to add a photo. It is crucial to select the correct location as it can represent a whole town, a specific street or a specific house in a street – or, for example, a monument or a church. The photo will appear in the specific location's gallery.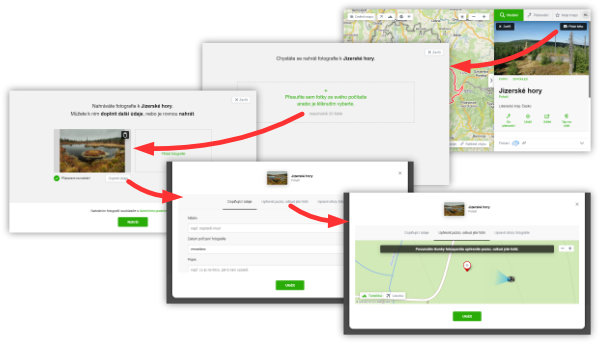 Do not forget to supply your photos with optional data (date, name, description, the location from which you took the photo...).
More options for uploading photos from the website
You can also upload photos from your photo gallery or from any coordinate on the map. The process is very similar except for the first and second step, during which you need to select the location that the photo relates to (it will then appear in the gallery of this location). If you do not select any location, the photo will only appear on the Photographic map.


You can also upload photos from the mobile app. Select the specific location to which you want to add a photo.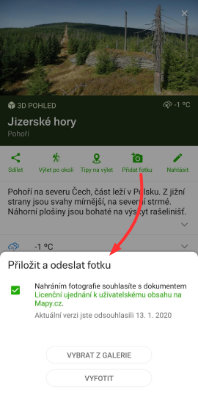 Any optional data can be added while editing the photo in your photo gallery on the website.
A detailed description of uploading photos in the application is described here.

After uploading, the photo needs to go through an approval process. This can take some time. Photos waiting for approval can be seen in your gallery before they are published on Mapy.cz.
To find out which photos will be approved, and which will not, please refer to Photographer's Guide.

A rejected photo will be deleted and you will receive an e-mail regarding the reason of the rejection.


Contact Us