Signing in via Seznam
Signing in via Seznam allows users to use their Seznam account to sing in to websites or apps from other companies.
The advantage of this login is that the user does not need to create a new user account and remember a new password for these sites and applications - they
can simply sign in to services in the same way as they do to their Seznam account.
The service you sign in to with your Seznam account will never see or get your password.
You sign in on the Seznam website and the service you are signing into will only receive your email address and name, if you have one set up in your Seznam account.
The form may vary based on the provider of the service you are signing in to with your Seznam account.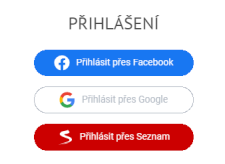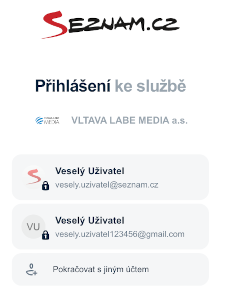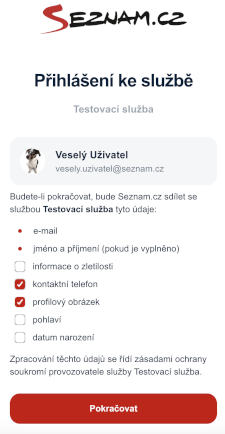 Sample of the sign-in form on Denik.cz website - click on the image to enlarge it.
By signing in for the first time, you can choose to share some additional information that the service may requests. This may include a profile photo or a contact phone number. You don't have to share this data with the services - just untick the option to share this data when you first sign in. You can continue to use Seznam Sign-in even if you choose not to share the optional data.
For an overview of the services that you have signed in to
, via Seznam, see the on your
Seznam account
. Here you can
cancel
individual logins at any time if necessary.

Contact Us