Route Optimization Tools
For optimization of your planned route, use the tools displayed in the right sidebar: View route elevation profile, Itinerary, Route Weather, Change direction, Save (to My Maps), Share and Export (of the planned route to a file).
Elevation Profile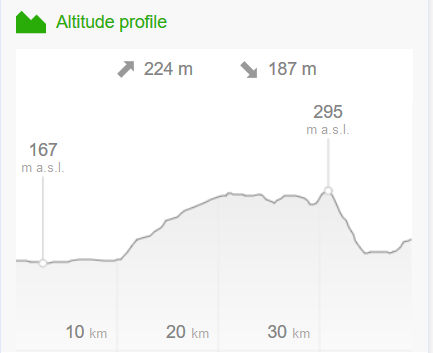 The tool
View Route Elevation Profile
displays overall ascend and descend of the planned route. When you move the mouse cursor along the route, a grey line is displayed at the corresponding elevation level. Similarly, when moving the mouse cursor over the elevation profile, a white dot is displayed at the corresponding location on the map.
The elevation profile is calculated from a digital terrain model consisting of multiple data sources:
On the territory of the Czech Republic and Slovakia, a photogrammetric model of aerial surveying is used.
The ascending /descending values are only indicative. By their calculation, minor unevenness of the terrain is neglected but critical breakpoints are maintained.



Itinerary
By clicking the
Itinerary
button, located in the right sidebar below the planned route, you can view the schedule of the planned route in detail. The list includes street names, road signs, length of the road sections and change of direction at the crossroads.
When moving the mouse cursor over the itinerary, the corresponding location is displayed as a dot on the planned route.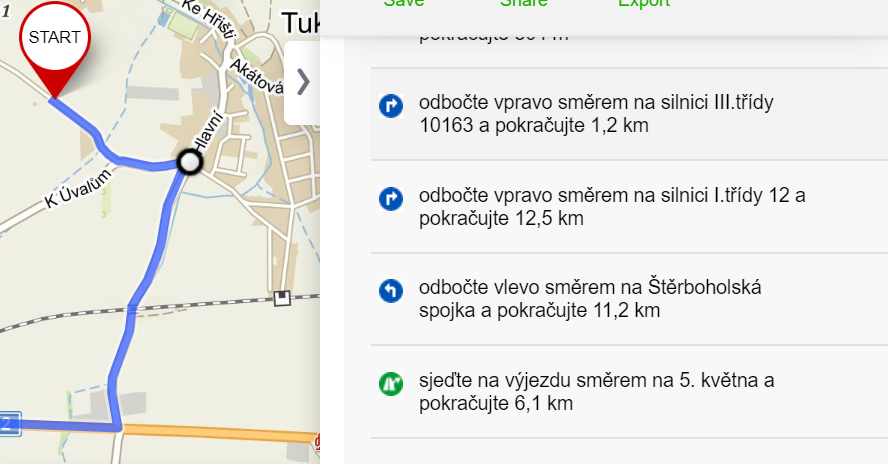 Change of direction
The tool
Change Direction
swaps the start and the end of the route, as well as all the waypoints along the route, so that the route goes in the opposite direction. The modified and recalculated route may be affected by, for example some known one-way closures on the route.
Save to My Maps
By clicking the option
Save,
your planned route will be saved for later use on your computer or in the mobile application. In order to save the planned route, you must be
logged in
.
More information about the function My Maps »
Sharing
By clicking the button
Share
, a shortened link will be generated (e.g.
https://mapy.cz/s/z2ec
) that leads to a map with a planned route exactly as you see it. Simply copy the link and send it to someone. The shortened link is permanent and its expiration date is not limited. You can also share the current screen on social media.
Export to a file
This option provides you with suitable links in order to import the route to GPS navigation. Only files in GPX and KML format are supported for export.
When exporting to a *.gpx format there are two types of output (route - only breakpoints, track - whole route)
Driving - export to a *.gpx file = route
Cycling, Walking, Skiing - export to a *.gpx file = track
Contact Us